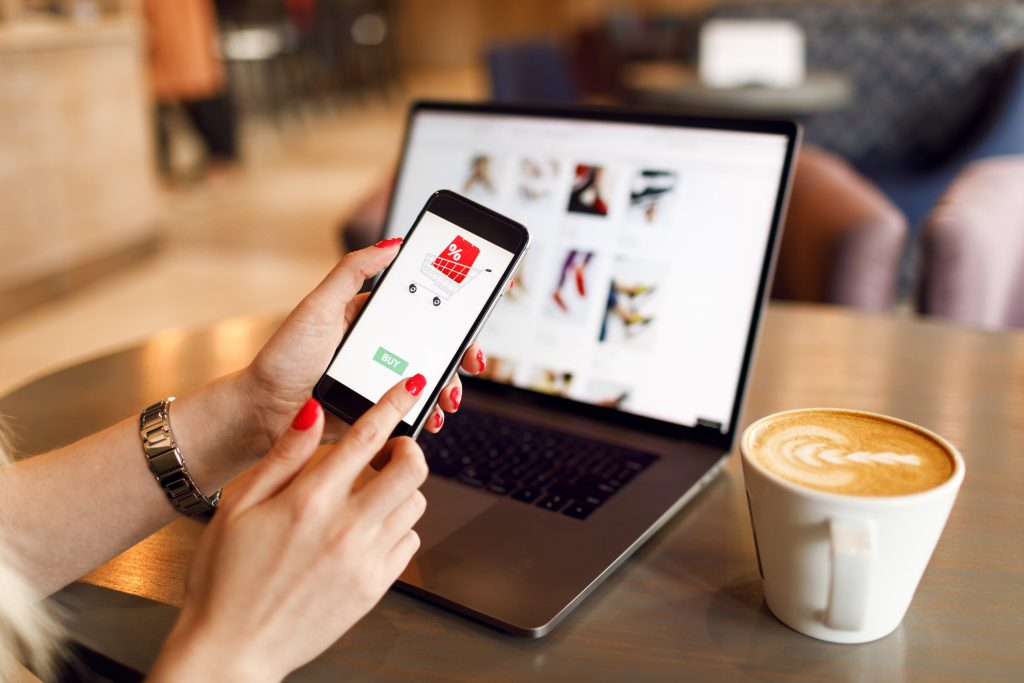 The ecommerce market has become more competitive than ever as consumer purchasing trends continue to shift to online shopping vs brick and mortar stores.
The recent pandemic has radically increased this shift as online shopping has become the only available option in many places. Statistics are showing 31.7% of shoppers now report that they will shift entirely to online shopping which is why brands have to get a firm grasp on how to create Facebook ads that convert.
The massive shift in shopping habits paves the way for strategically planned advertising campaigns. Averaging 1.79 billion daily users, ecommerce brands can't afford not to learn how to advertise on Facebook effectively. Every ecommerce brand should be using the platform's extensive targeting options to boost sales with Facebook ads. That being said, however, Facebook has also reported over 7 million advertisers using their platform to run ads making it a very competitive landscape.
To be successful and get your brand up to par let's look at some Facebook ad examples that convert.
7 Facebook Ads That Convert
The key to creating Facebook ads that convert for ecommerce sales is creating an engaging ad your customers want to interact with. We're taking a look at 7 Facebook ad examples that convert from these brands:
Dollar Shave Club
Frank Body
Beardbrand
YogaClub
Bonobos
TOMS
Warby Parker
Facebook Ad Example #1: Dollar Shave Club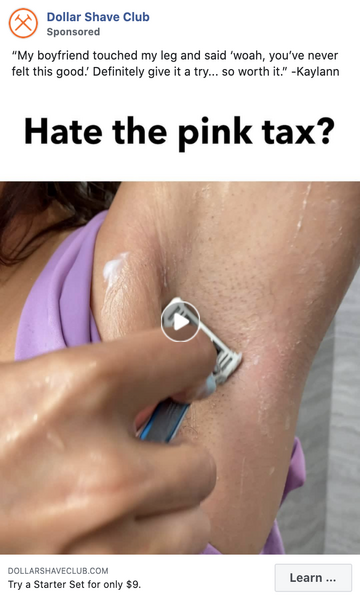 The first Facebook ad example for ecommerce on our list uses questions to create a conversation and boost engagement. Consumers want to be part of the conversation with brands. If all they ever had were an endless assault of product images, they'd be turned off very quickly. In this ad, Dollar Shave Club has boldly opened their ad up on the very hot topic of a "pink tax."
Without having to take a controversial stance that could be polarizing to potential customers, they've instead posed a question that is sure to bring up a lot of support and engagement. The effectiveness of this Facebook ad is also boosted by using video (video ads tend to have higher conversion rates) and with the social proof quotation in the ad copy.
Facebook Ad Example #2: Frank Body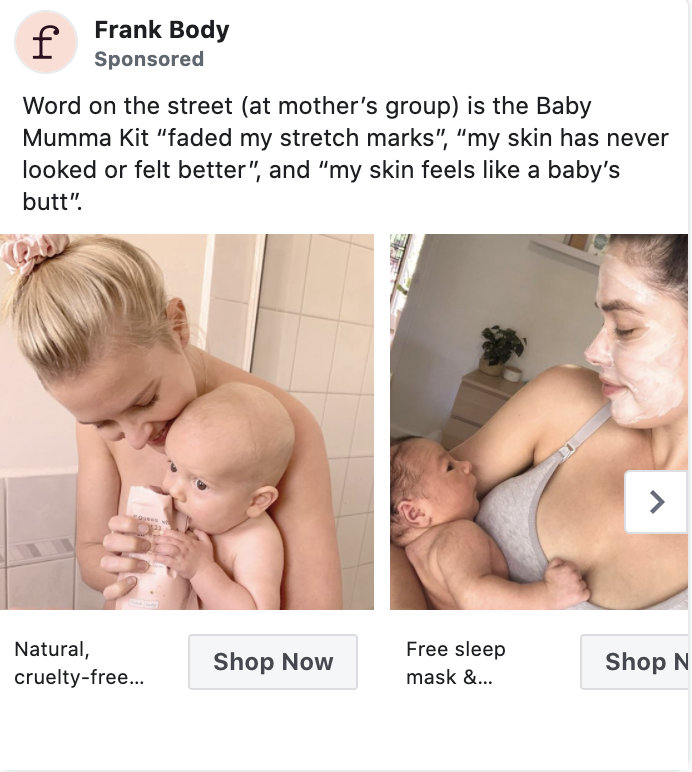 Another effective method for creating Facebook ads for ecommerce that convert is using images that make a direct connection made with the customer. Humans connect with other humans and respond well to shared experiences. Showing faces is another common trait in Facebook ads that convert. The images here are instantly relatable for mothers of newborns and evokes the emotional response to taking care of them.
Even better is that if a picture speaks a thousand words, the carousel format of this ad uses several! You can increase your chances for conversions by retargeting with Facebook dynamic ads.
Facebook dynamic ads work with the carousel, single image, and collection ad formats allowing you to target existing customers, warm leads, and even new prospects. This lets you connect to potential customers at all stages of the sales funnel.
Lastly here, consumers want to feel a connection with brands before they make a purchase. That connection is more effective than any straightforward sales pitch in creating ads that convert. The ad copy here connects brilliantly brings up topics new moms are very acutely aware of and connect to immediately.
Facebook Ad Example #3: Beardbrand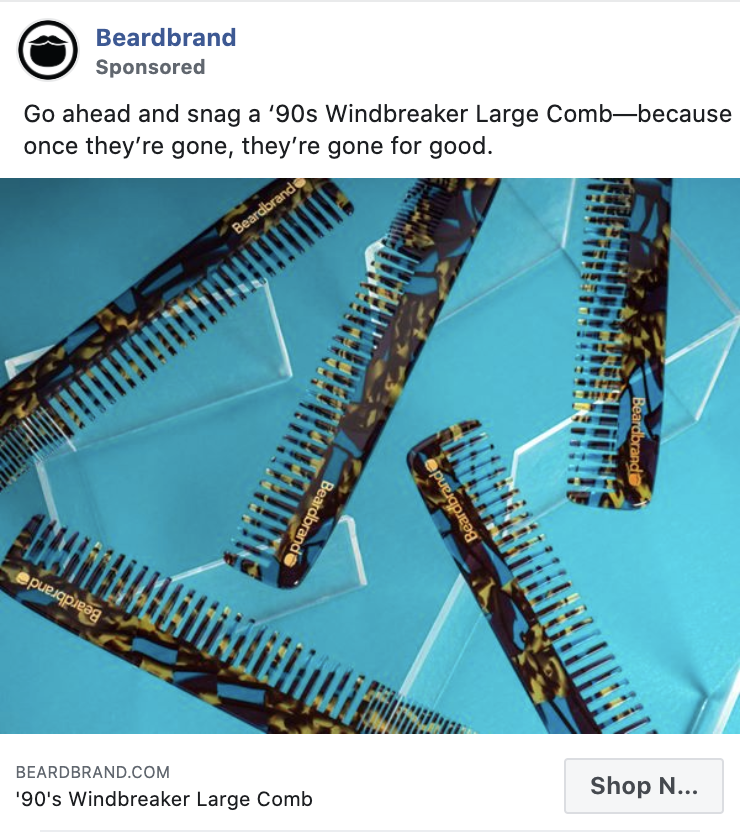 This ad by Beardbrand is a great example of successful strategies for Facebook ads that convert: scarcity and limited supply. If people see something is unique or part of a limited supply, they want to be part of the club! The ad copy here lets them know this is the only time they can make the purchase for this product before it's gone.
Using language reflecting a limited supply or temporary sale in your ad copy creates urgency for the customer to complete their purchase immediately in order to make sure they get their product. Limited quantity Facebook ads can successfully boost impulse purchases.
Facebook Ad Example #4: YogaClub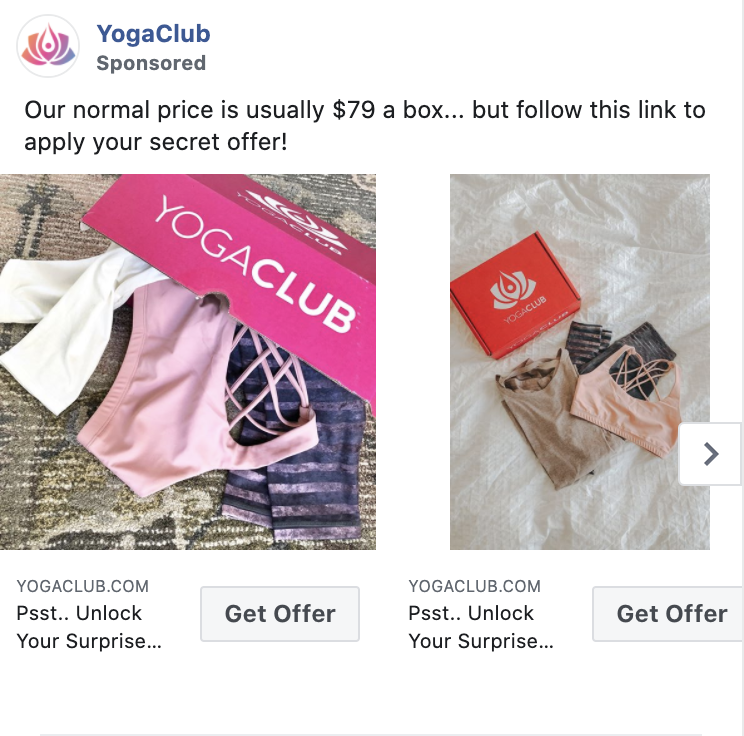 Learning how to create a Facebook ad that converts includes using a strong Call-To-Action (CTA). In this ad, YogaClub creates mystery by withholding the sale price and replacing it with a CTA to follow the ad link to reveal it instead. This strategy peaks your curiosity and is a great way to raise the CTR while increasing the chance of conversion. Combined with using the right CTA button on each carousel card, this method is sure to boost a brand's ecommerce sales!
Facebook Ad Example #5: Bonobos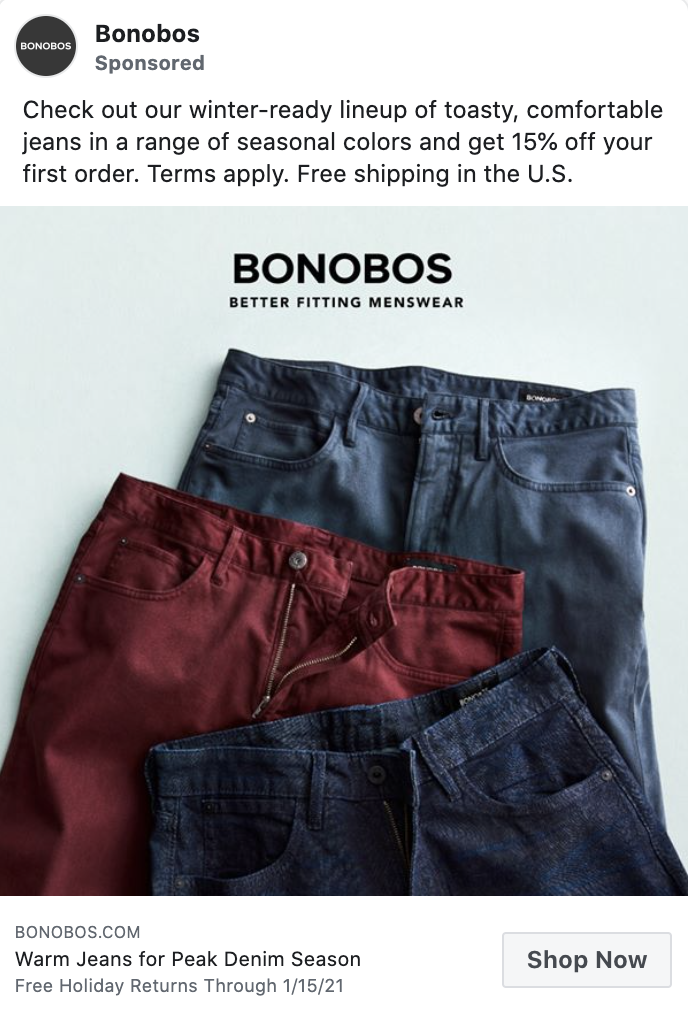 Creating a special sale is another way for Facebook ads to boost sales for ecommerce brands. In this Facebook ad for clothing, Bonobos is offering 15% off first orders. Facebook ads like this push potential new customers to convert while the offer lasts. This strategy is especially effective at creating conversions in customers who may have put off purchasing but commit when given a special discount. It's also important to note the ad copy here is clear and to the point. It presents a common feeling the customer can relate to then mentions the 15% off deal.
Pro Tip: Adding a number to the beginning of title copy increases the average CTR by 36%. If that number is odd, CTR increases an additional 20%!
Facebook Ad Example #6: TOMS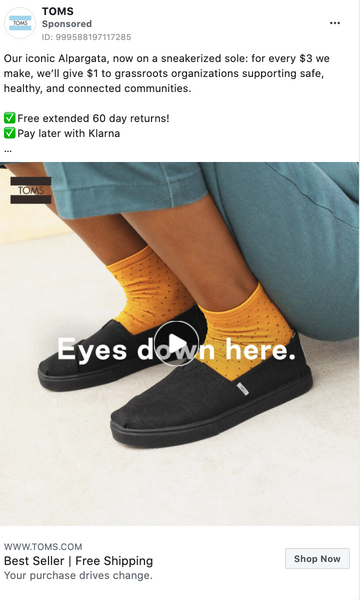 Next in our exploration of Facebook ads that convert is this ad from TOMS. While famous for its brand commitment to giving back to communities, this ecommerce Facebook ad example lets the customer know exactly how their purchase will help in that donation by stating that for every $3 they make, they'll give $1 to grassroots organization. Not only does this improve brand reputation but it helps increase conversions because consumers feel like their purchase is also doing good for others.
Facebook Ad Example #7: Warby Parker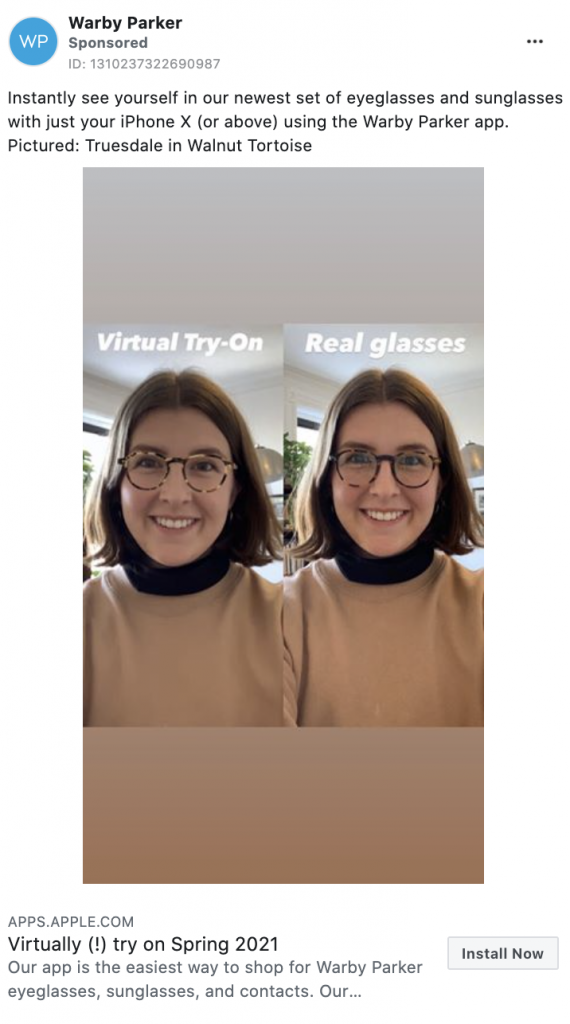 Last on our list of Facebook ad examples for ecommerce is this ad from Warby Parker. Representing new AR technology that allows customers to experience their product before purchasing makes this is a shining example of a Facebook ad for ecommerce that converts. It removes the common stumbling block brands face in the battle of online shopping versus in-person shopping: trying things on.
While the ad itself doesn't sell a specific item, it does give information on what the customer is seeing in the ad (labeling which glasses are pictured) and helps lead customers down the sales funnel. Providing an interactive experience, as opposed to simply posting products on a page, will inevitably boost ecommerce sales.
On Creating Facebook Ads That Convert
Facebook ads can be incredibily effective for boosting ecommerce sales in today's marketplace. With over 7 million Facebook advertisers and organic reach on the platform averaging only 5.2%, your brand needs to learn how to create Facebook ads that convert in order to be competitive.
We hope these Facebook ad examples have given you some good ideas on what your brand should be doing.
Create Facebook ads that stand out from the noise and engage with the customer genuinely. Building a relationship with your customers is what solidifies your brand's Facebook advertising success.
Facebook ads management should include using the platform's extensive targeting capabilities and campaign data to build, monitor, and maintain paid social media advertising campaigns for target KPIs and maximizing your Return On Ad Spend (ROAS).
Are you ready to take the next step in growing your business?

Bonus Tip: While organic reach may not be high, businesses opting to run paid social media advertising campaigns should also have an active organic social media content strategy. Consider a custom service package to include social media management or other services, as well.