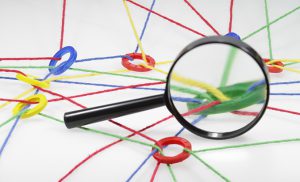 In no uncertain terms, of course it is! Link building is still very important for SEO as it drives site traffic and improves brand visibility, ultimately increasing your SERPs ranking position. You can't have customers if no one knows about you. That said, the quality of backlinks you're gaining is more important than just the number itself.
What are Backlinks?
More than the (seemingly) obvious answer that backlinks are links that refer back to your site, they're also a tool. Backlinks improve site credibility. This affects how Google ranks you, contributing to your positioning in SERPs. The larger the number of high-quality backlinks, the more credibility search engines assign to your site. Think of it as Google's reputation management tool. You can check the Domain Authority, or DA, of a site and determine if you think it will be beneficial to target for a link building. The higher the DA of your target the more credibility a site already has. This means gaining that link will likely help you rank better in the long run.

What Else Do Backlinks Do?
On top of factoring into your positioning in the SERPs, backlinks direct traffic to your site! Improved off-page SEO will boost organic traffic but there is more to increasing your rank than just link building. For measurable increased ranking and organic traffic you need a combination of on-page SEO as well as off-site tactics.
Off-page SEO increases site traffic by driving up brand visibility. A link in an article on a high-DA site is more likely to get many views and provide the opportunity for people to follow the link right to you. Boom! Increased brand awareness! Better still, a guest post on a highly-visited site gives your brand an instant credibility increase and establishes your authority. People are more likely to trust your brand if vouched for by a brand/blogger/site they already know. When considering guest posts, however, make sure your post is relevant and useful. A misleading article title or information the reader isn't looking for is worse than not having the post there at all. A bad reputation is worse than a developing one. You can avoid these issues with a proper content strategy.
Link Building Creates Relationships
Link building is important for SEO, but the outreach strategy involved in gaining them should build relationships with other brands. Outreach isn't just about asking for a backlink or a guest post. It's about showing what you can offer to their audience that is both relevant and useful. This can occasionally lead to ongoing relationships. You can start a content exchange or potentially set yourself up for a monthly column on another site. Relationships build your business, not just backlinks. Approaching each outreach target in a personalized way will lead to more success in your efforts.
SEO is a combination of many factors that work together to bring you to your audience and your audience to you. Lacking effective off-page SEO will not only cost you link building opportunities, but in turn cost increased site traffic and brand awareness. At Aevum Media we can facilitate your link building efforts as part of our SEO Strategy and Consulting services. Contact us and let's start the conversation.