We worked with an organic health supplement startup to create a paid social media advertising strategy for lead generation ahead of their product launch. We were initially brought on to perform an ad audit and determine the effectiveness of the client's (then current) ad agency. Upon presenting our analysis we were hired to take over and revamp the client's entire pre-launch digital strategy.
Our duties and actions for the client included:
Performing the initial ad audit to analyze previous performance and discover areas for improvement.
Developing and presenting our new pre-launch digital strategy proposal to their team, discussing opportunity areas and recommended changes for creative assets and landing pages.
Re-cut their existing video assets to shed unnecessary narration and be more succinct.
Created new voiceover copy and selected stock video available to them for the creation of new video assets.
Researched keywords with search volume to determine what terms may stand out to the client's target audience (terms they are already searching for that connect to the upcoming product) for use in ad creation and landing page optimization.
Assisted in full redesign of two landing pages for A/B testing using target keywords with search volume and engaging site copy.
Created, managed, and reported on lead generation ads for Facebook and Instagram.
Provided monthly reporting of ad campaign performance and strategy recommendations.
Focus KPIs (Key Performance Indicators)
Conversions
Conversion Rate
Average Cost Per Lead
CTR (Click Through Rate)
Results Metrics
We were able to:
Increase the number of conversions 396% over the previous ad agency from 175 to 869. (measured by email list building)
Maintain a very high monthly average conversion rate over three months of 57%, 59%, and 54%, respectively.
Reduce the average Cost Per Lead by 56% from $4.57 to $1.98 in the first month.
Maintain an average Cost Per Lead of $1.91 and $2.16 in subsequent months.
Achieve a high Click Through Rate (CTR) of 4.95%, 2.76%, and 2.39% for the 3 months of service, respectively.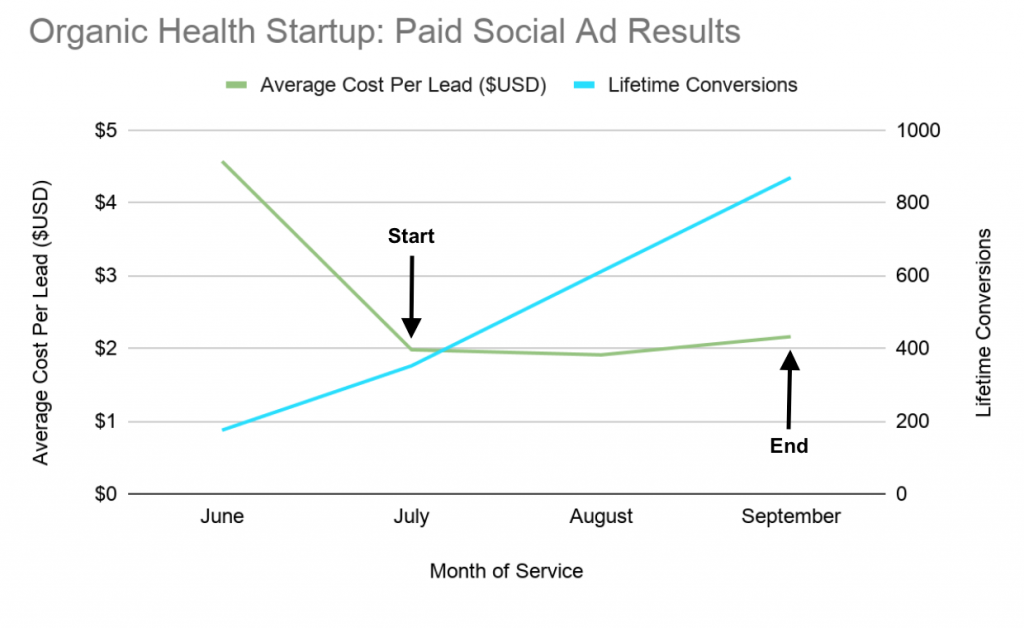 How We Achieved Our Results
While we worked with the client's team to optimize landing pages and improve creative assets, the bulk of our paid social media ad campaign strategy success is the result of:
Painstakingly writing standout copy for ad headlines and post text.
Refreshing their existing creative assets for a more engaging experience.
Expertly using the platform's ad targeting capabilities to focus on high-converting groups fitting the client's customer persona.
As Facebook has very strict guidelines on ads for health supplements we had to ensure our ads followed rules precisely. There were a few instances where our ads were erroneously rejected by Facebook for potential violations. Each time we successfully challenged the platform's ruling and won by proving we were in full compliance.
Our work with this client allowed us to combine our experience with social media advertising and SEO to create ad campaigns and optimized landing pages that convert.
If you're looking for paid social media advertising services or a custom SEO strategy, let us know!